About Us.
The Raccoon Alliance was formed in 1891, when Jebediah Samuelson III had a pet raccoon named Buttons who brought his human friend a pack of hockey cards. They shook hands and the man paw alliance was formed. 
Fast forward 130 years we noticed there wasn't any quality hockey breakers. Sure there's hockey breaks out there that fly through the packs with the personality of drywall, or there's breakers out there that only send the hits. But that's not us. 
We break hockey for cheap. Every card we pull, we send to you in the mail worldwide. Every break is a fun experience where we laugh and have a good time. 
We haven't forgetten Jebediah Samuelson III and his alliance with a raccoon. We are forging the bond and making it stronger. We are the         MAN. PAW. ALLIANCE.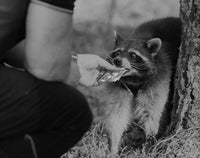 Active Breaks
Break 15-23: Ice, Spx, Stature, OPCP

Regular price

from $30.00

Break 16-23: OPCP, Synergy, Creds, Black Diamond!

Regular price

from $29.00

Break 17-23: Ice, SPx, Stature, Synergy, OPCP, SPA

Regular price

from $24.00